Wonderful Watermelon: A Sensational Summer Tribute
Sep 4, 2015, 19:29 PM
Labor Day is this Monday and with it comes the unofficial end of summer. We've had a glorious couple of months, but we all knew it couldn't last forever. As summer vacation comes to a close, we'd like to encourage folks to send this wonderful season off in style.
Not sure how you should mark the occasion? Celebrate Labor Day weekend with the epitome of summer foods: watermelon. This tasty treat can be done up in hundreds of unique and delicious ways. Grill it, mash it, blend it, chop it, and more – friends and family will be thrilled. Check out our fun recipes below and say goodbye to summer with a salute to watermelon.
With Feta
– Not only do these appetizers look and taste amazing, they're also exceptionally easy to make. Chop your watermelon, add a sprig of mint, cube your feta, and skewer. You can drizzle with balsamic vinegar if you want to knock your guests' socks off (or not, it's your call).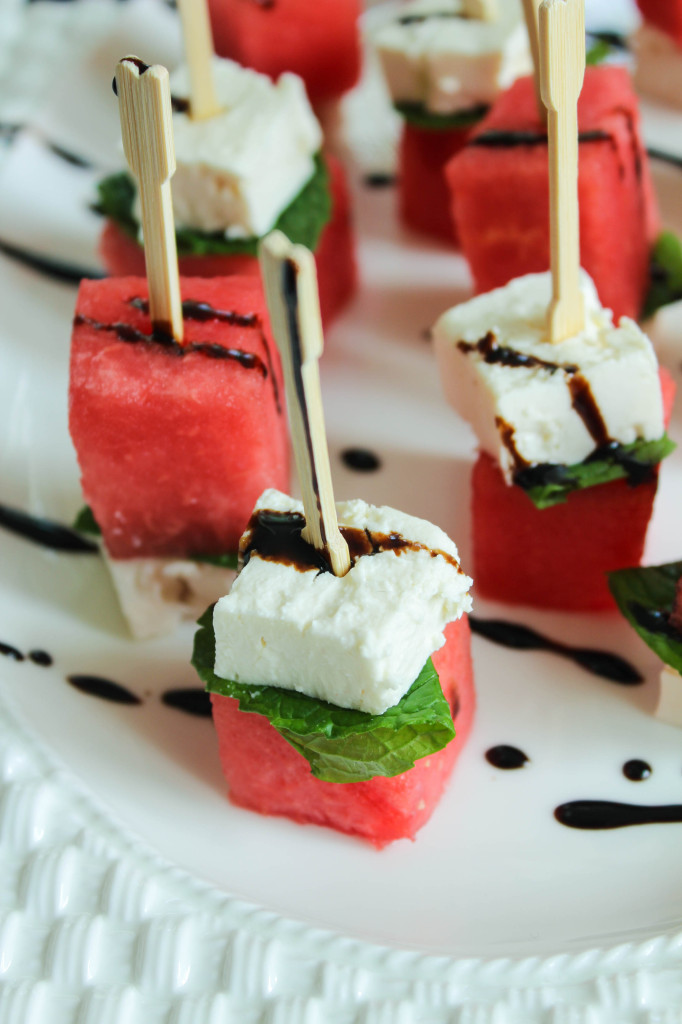 With Prosciutto
– Here's a dish you don't see every day: melon and prosciutto salad. Another sweet and savory creation (if you haven't noticed, feta and watermelon pair very well together) this is a lovely summer meal. It'll keep everyone cool and satisfied.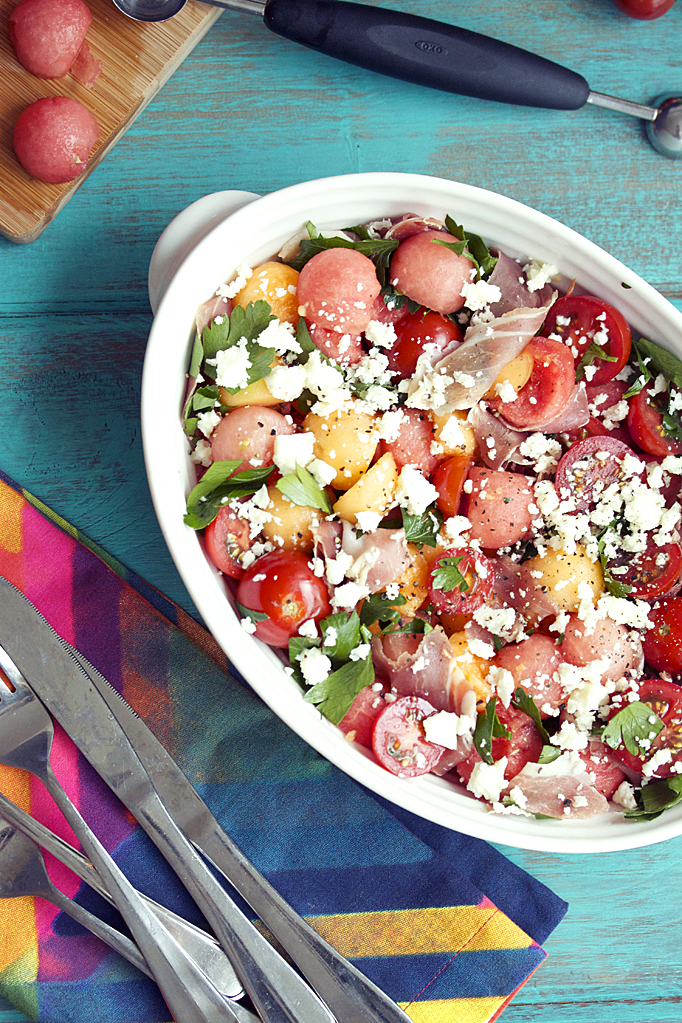 With Chicken & Blue Cheese
– Not one for feta or prosciutto? They aren't for everyone. That's why we've got this tasty chicken, blue cheese and watermelon creation. Placed on a bed of spinach this is a delicious and healthy combination.
With Basil
– Expecting vegetarian, vegan or gluten intolerant visitors? We've got you covered. This watermelon basil salad has the crunch and flavor to satisfy many, while keeping most dietary restrictions in mind. Plus, it's a snap to make!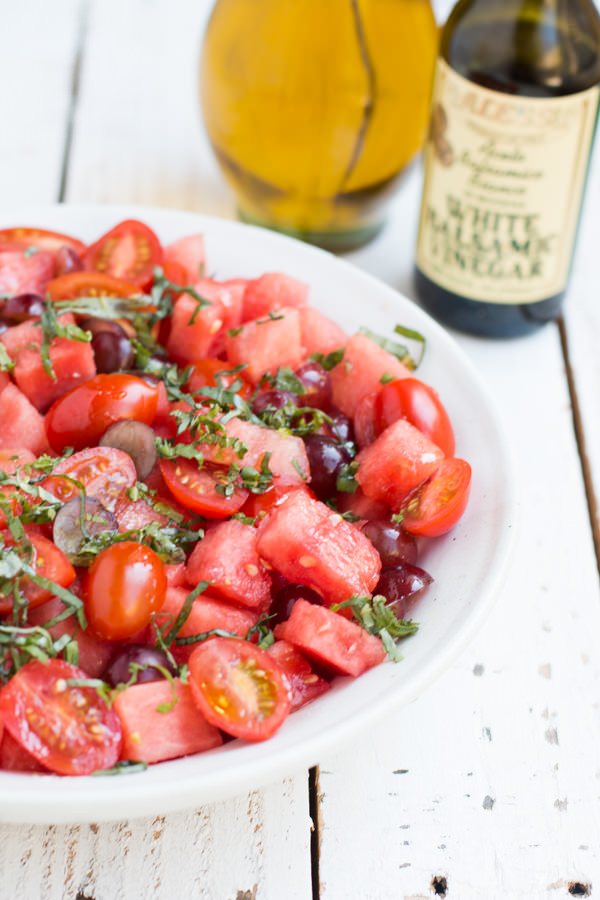 Jerky
– You've heard of beef jerky and pork jerky, but watermelon jerky? This is definitely one of the most creative ways we've heard of cooking with watermelon. But it's also incredibly simple and yummy. All you need is a food dehydrator and a watermelon and you're good to go.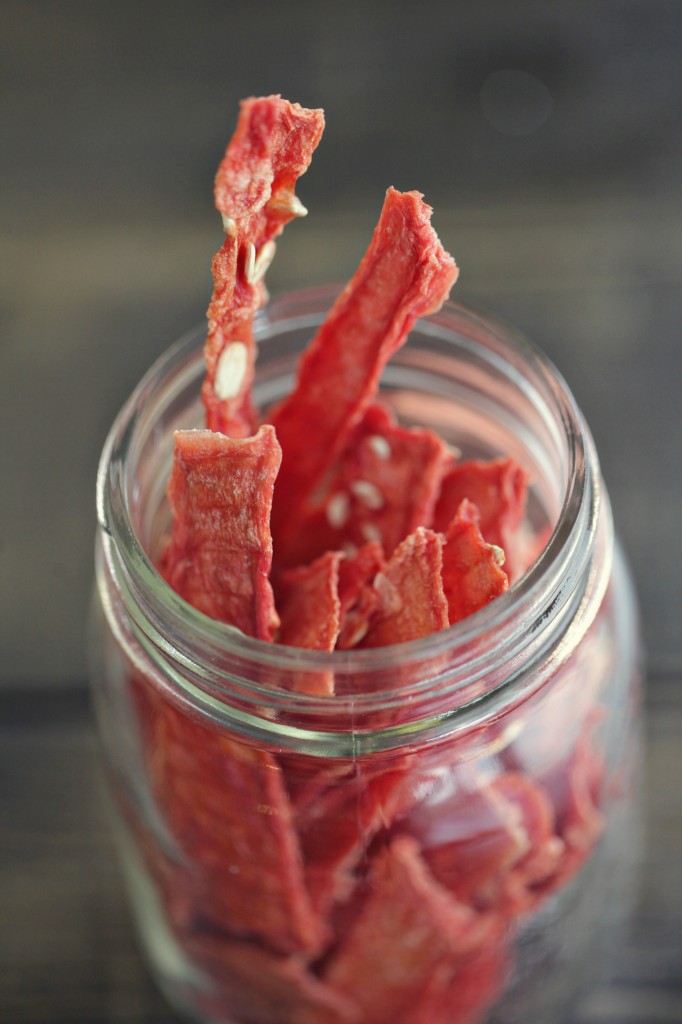 Grilled
– Have you ever grilled a watermelon before? Something sort of magical happens. This recipe calls for the melon to be grilled with mandarins and honey, which caramelizes as it heats up (yum!). Sprinkle with granola and yogurt if you want, or just eat this sweet treat on its own.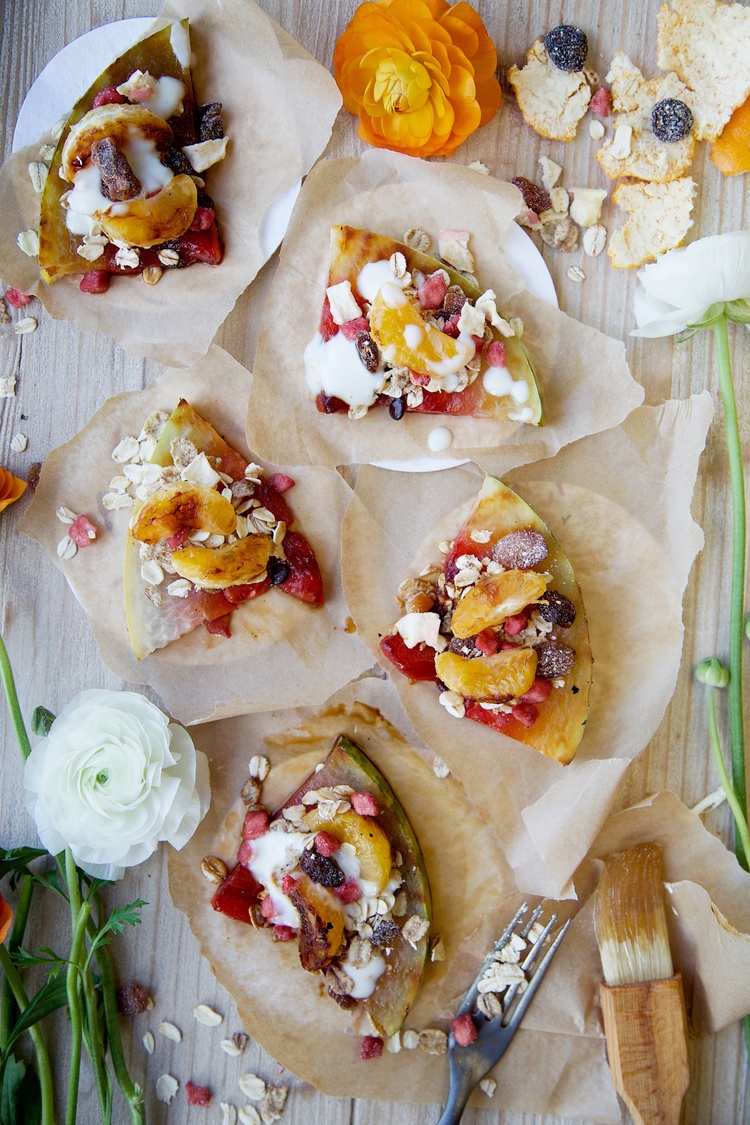 Sorbet
– The final days of summer always seem to be the hottest. You think the end of August and beginning of September will start to see chillier temperatures, but it just gets hotter. If you're trying to beat the heat this weekend here's a recipe that's sure to help. Watermelon sorbet is so simple. All you have to do is freeze a cubed watermelon, blend it, let it set in a pan, and refreeze it.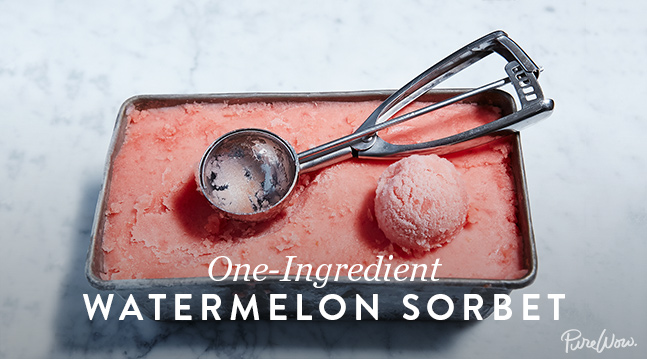 Sangria
– Watermelon, strawberries, lemons, wine, and vodka combine to create a sensational summer cocktail. Sipping these bad boys on your porch is the perfect way to say goodbye to summer.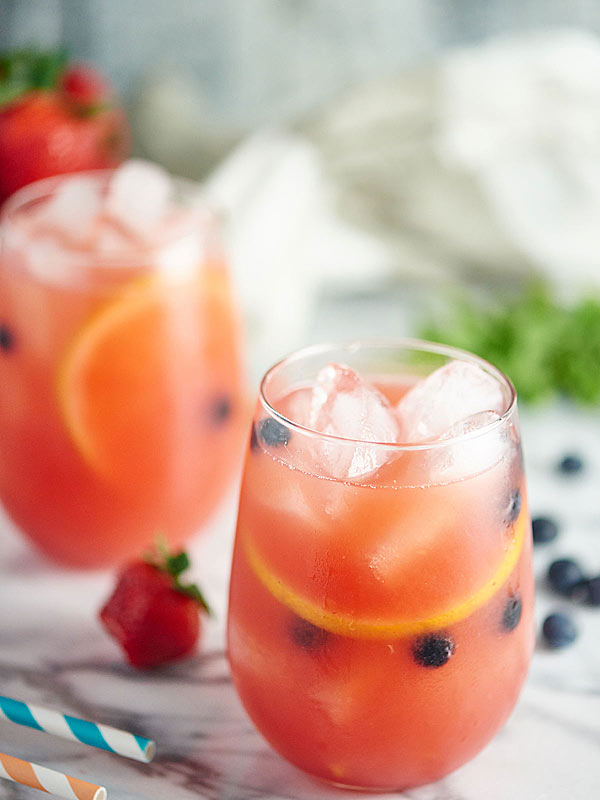 Mojitos
– Sangria not your thing? Try making watermelon mojitos. We already know from our salad and skewer recipes that watermelon and mint make a lovely couple. Add a little rum and see what happens! (As Martha would say, it's a good thing!)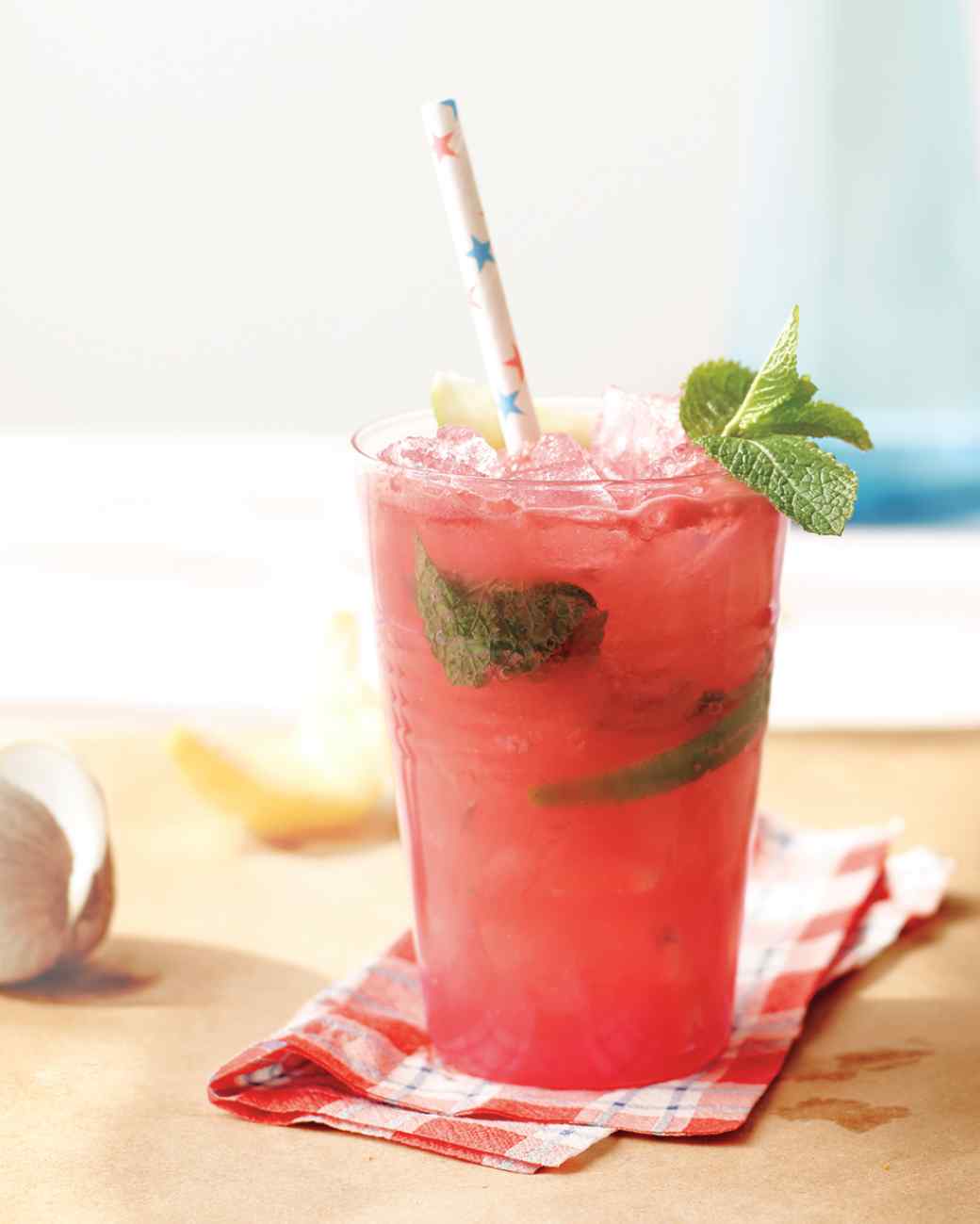 Jell-O Shots
– We saved the best for last! These Jell-O shots are totally adorable and delicious. They're a bit more work than some of our other recipes, but you can be sure they'll add a splash of fun to every party!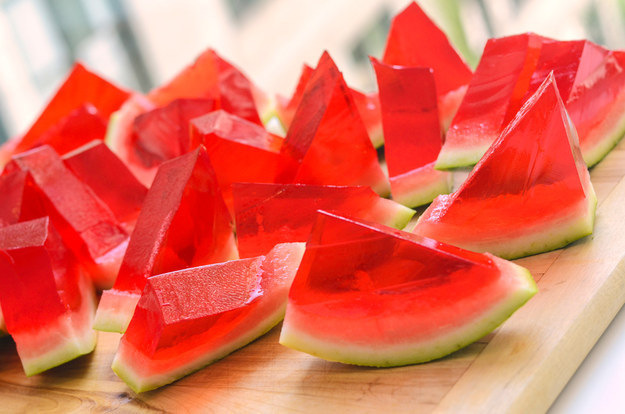 We hope these fun and flavorful watermelon recipes help you celebrate the last long weekend of the summer in style. If you try your hand at any of these dishes make sure to share snaps of your creations with @HomeShows on
Twitter
and
Instagram
!

Some of you may be dreading fall's arrival, but we're excited. Summer is fabulous, but fall means the start of home show season! To celebrate the start of this lovely time, we're offering
2-for-1 tickets
to the Marketplace Events homes how of your choice!
Visit our Facebook ticket deals to learn more
! Happy Labor Day from our family to yours!