10 IKEA Hacks To Freshen Up Your Space
Apr 8, 2016, 12:58 PM
What is it about springtime that signals the start of DIY season? Yes, there are many who undertake projects all year long, but for some reason there seems to be a flurry of home improvement activity as the temperature begins to rise. Perhaps it's the bright spring sunshine illuminating your dated decor, or the prevalence of inspiring spring colors, patterns, and trends, or maybe we're all just feeling invigorated after a long winter's rest. Regardless of your motivations, we're excited to share some new projects to help cultivate your DIY ambitions. We know that starting a DIY entirely from scratch can be a lot of work and usually requires a certain level of skill that not every homeowner possesses. So we decided to share our 10 favorite IKEA hacks - simple projects you can try to make your otherwise conventional IKEA furniture look more beautiful and luxurious. Check out great ideas from some of the best bloggers out there and get ready to get your DIY on.
We're not IKIDDING you, these are from IKEA!

Stools - This Little Street shows us that removable wallpaper in fun patterns turns regular stools into works of art! Perfect for children's rooms or just jazzing up your own space, these stools are super easy to make. Get the full tutorial here.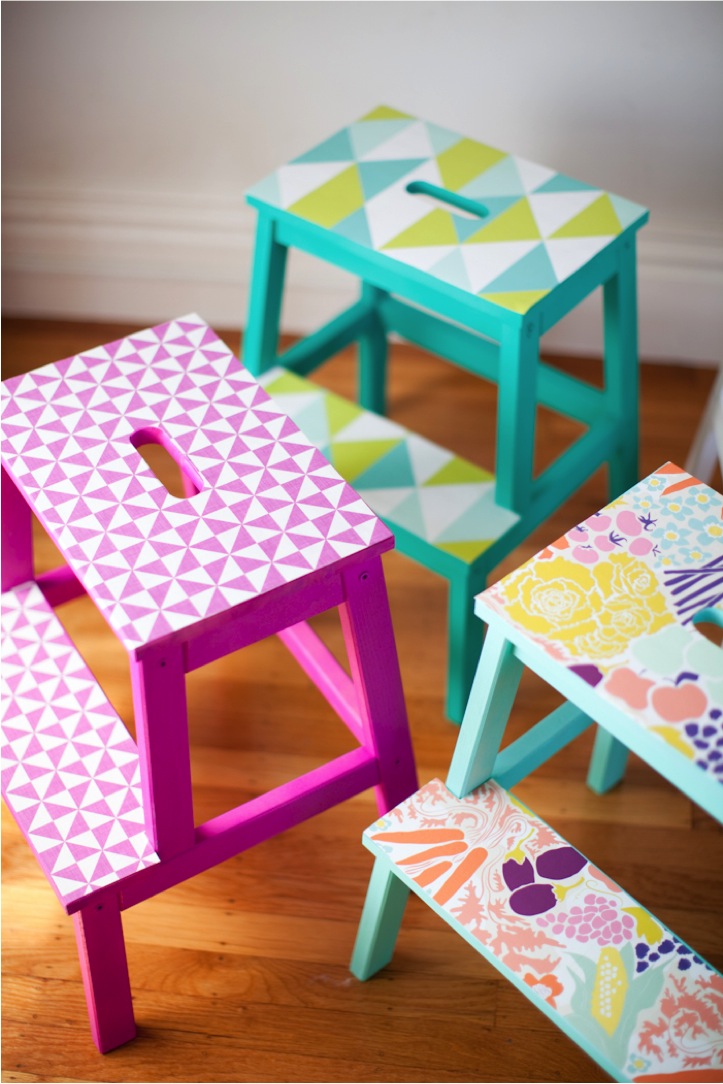 Cabinets
- You might not realize this, but switching out the knobs and top part of this cabinet make it look like a custom built-in. As
Made By Girl
proves, it's the little details that define IKEA furniture, so transforming these pieces isn't usually a huge undertaking.
Get the full tutorial here
.
Side Table
- This IKEA table was only $30, but you wouldn't believe it - heck, you wouldn't even believe it was from IKEA.
Style Me Pretty
used marble contact paper and copperleaf to give this side table a serious upgrade!
Get the full tutorial here
.
Entryway Table
- Just because a piece of IKEA furniture doesn't fit your exact requirements when you first buy it, doesn't mean you can't make it work. Using paint and a little carpentry
The Sweet Beast
turned this shelf into the perfect entryway table.
Get the full tutorial here
.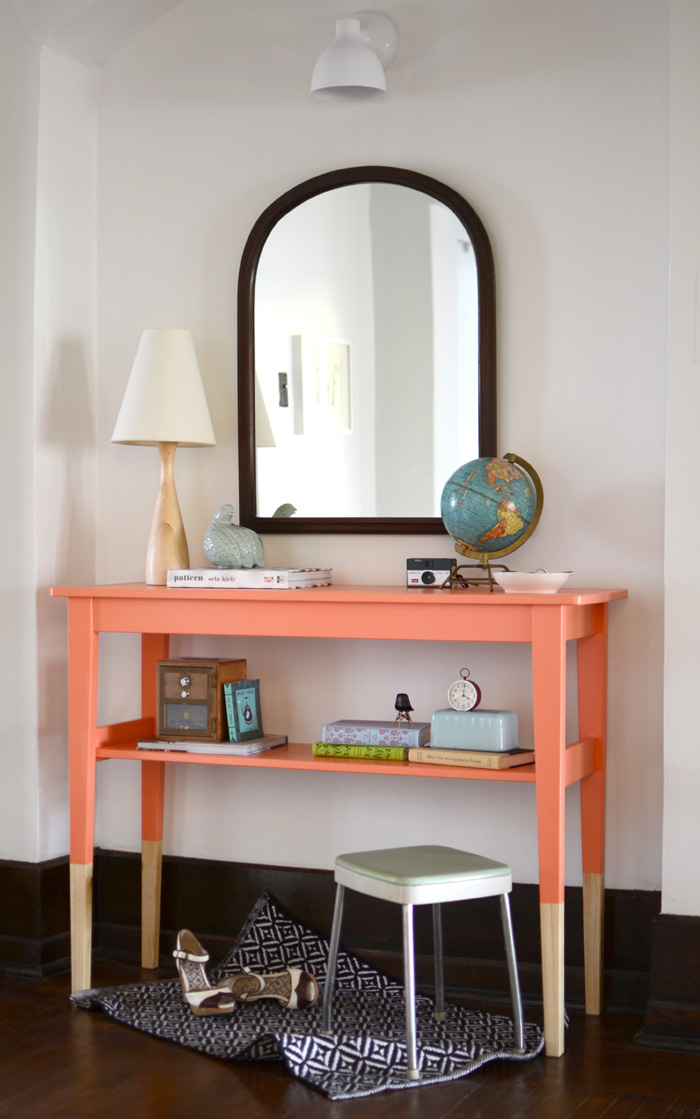 Tote
- Ok, so this isn't exactly for your home, but the hack from
Melissa Esplin
was so creative we had to share it. I guess what we're trying to say is, we totally love this tote. It's more complex than the other hacks we've shared, but the end result is so stunning you won't believe this bag was once a pillow case.
Get the full tutorial here
.
Window Bench
-
Mommy Vignettes
is the genius behind this creative upgrade. A cushion, some legs, and a bit of carpentry turn this shelving unit into a window bench.
Get the full tutorial here
.
Bathroom Vanity
-
The Golden Sycamore
went a little rustic with their hack and we approve. A touch of milk paint changes the feel of this IKEA vanity, making it look a lot more luxurious, expensive, and unique.
Get the full tutorial here
.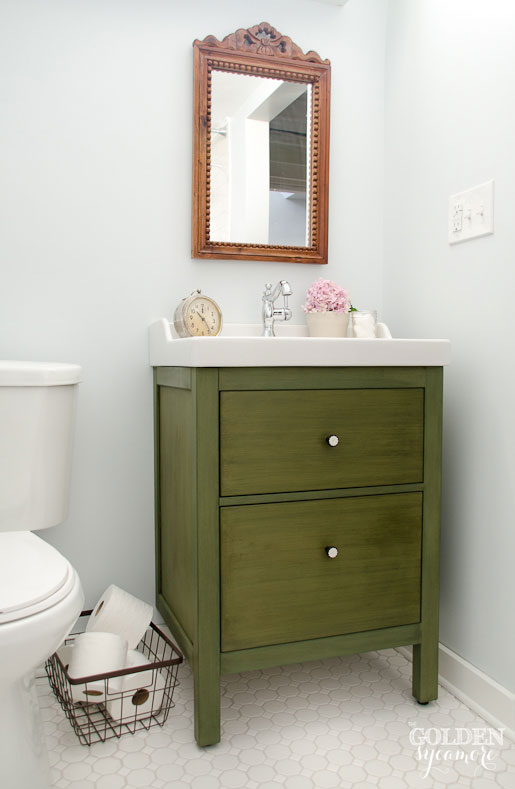 Chair - Turn a boring, plastic desk chair, into something more fluffy, original, and comfortable. Our very own Digital Marketing Director, Joanne Carry, is responsible for this creative hack!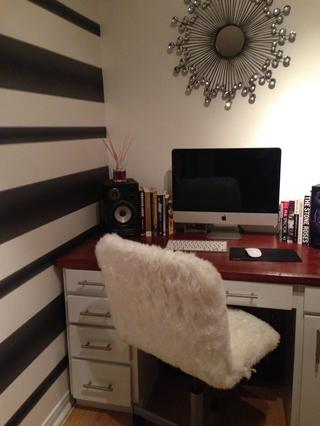 Lamp
-
Cape 27
filled the inside of this clear IKEA lamp with paint creating a bright, adorable piece of furniture. $23 well spent!
Get the full tutorial here
.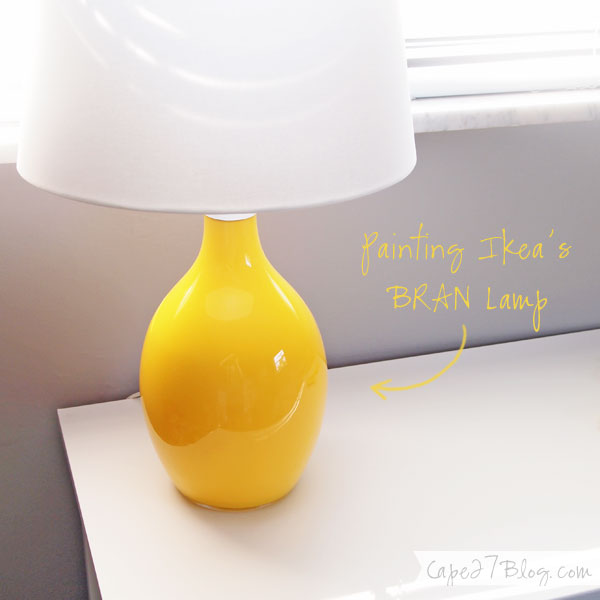 We love lamp!


Bookshelves
-
Centsational Girl
added some faux crown molding to these simple bookshelves and painted their interiors a rich color to make them look a lot more high-end. What a great idea!
Get the full tutorial here
.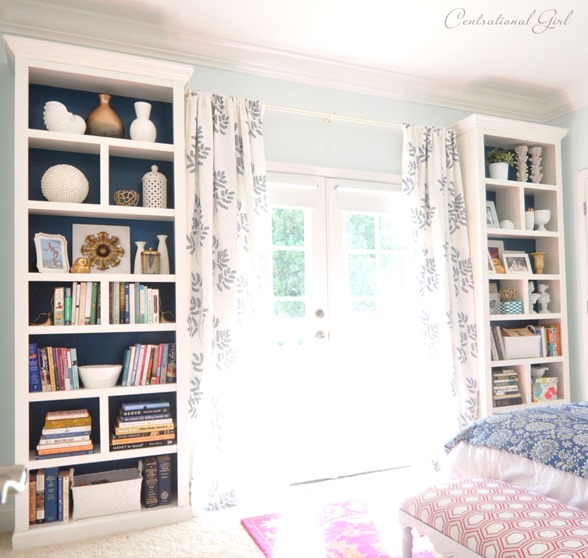 We hope these hacks help to inspire your next DIY project and show you how a really simple undertaking can have a huge impact on a space. Are there other IKEA hacks you've tried that we haven't listed here? Share them with
@HomeShows
on
Twitter
and
Instagram
. We'd love to hear about how you've made your furniture better!