DIY on a Dime: Oscars Viewing Party
Feb 22, 2017, 19:05 PM
The most glamorous night of the year is upon the Hollywood stars, the Academy Awards, but that doesn't mean that we can't join in on the fun. What will it be: La La Land or Hidden Figures? Emma Stone or Meryl Streep? We have e-invites, decorations and awards all ready for you to make and have fun with your movie-buff friends. Sit back, unwind in your best red carpet attire, and join the likes of Mahershala Ali and Leonardo DiCaprio at the Dolby Theater on Sunday February 26th, 2017.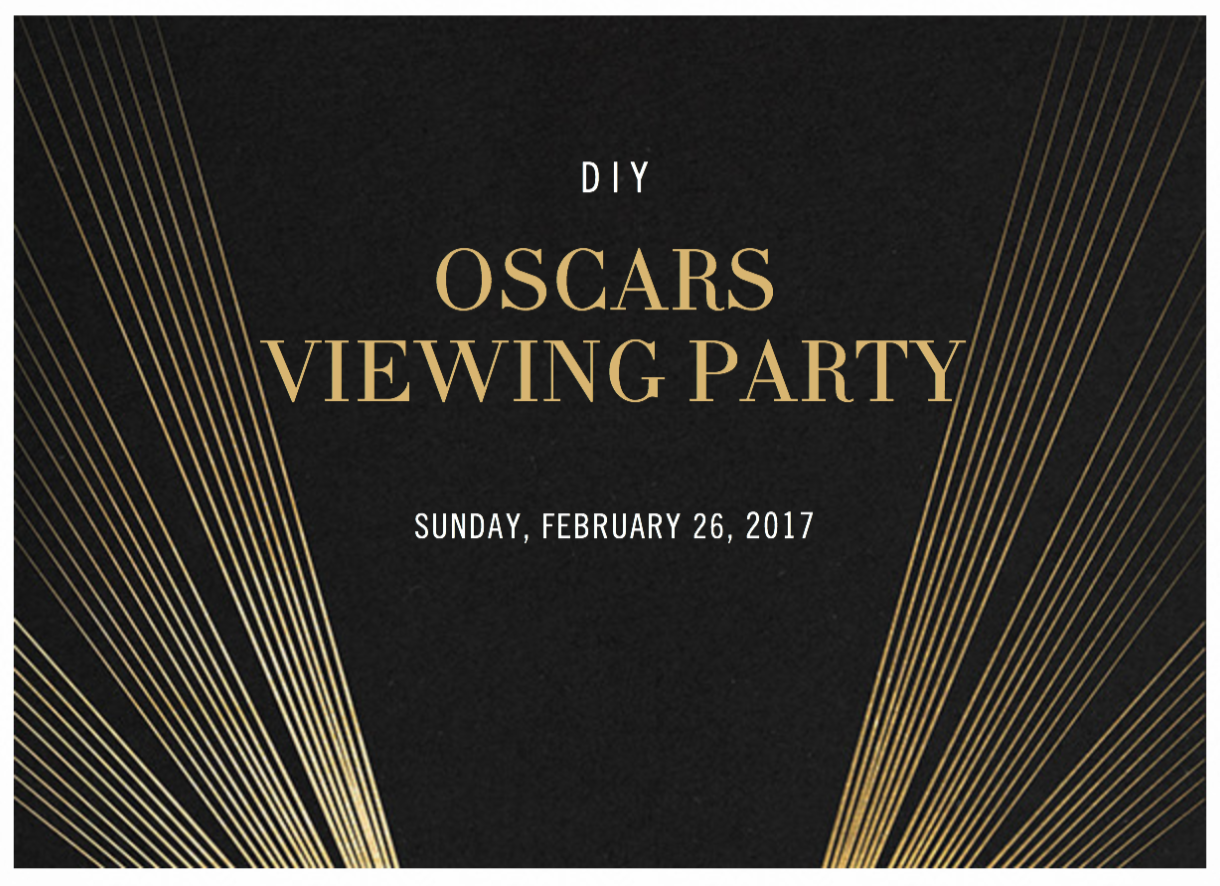 Set the tone:
There really is no need to go out of your way to create invitations and mail them out all thanks to the power of the internet! Create a Facebook event and invite all your movie buff friends. Send out an e-invite using Evite or Paperless Post. One thing you need to consider is the dress code. Are you looking for a glitz + glam PJ party or a red carpet affair with the Givenchy and Dior? Make sure you let your guests know the attire to help better set the tone for your Oscars viewing party. You and your friends might look at this as an opportunity to show off a new ensemble or an excuse to pull out old wedding dresses and put them to use! Ask questions like "Who are you wearing?" and "Who's your date?"
The decor:
Pick a combination of colors. The Oscars are typically anywhere between gold, black, silver, and red. Stick to two and make them the recurring theme. Greet your guests with champagne glasses at the door and a table set up with themed plates. Your centerpiece, whether it be flowers or a DIY Oscar statue, should also fit with your motif. Cut out gold and silver stars, scatter them around the floor, tables and walls. Helium balloons and confetti will make your living room look like the A lister-filled Hollywood theater.

The food:
Create a customized menu and name them after celebrities: The Gosling (a mixed drink) or the Eggs Benedict-Cumberbatch. You can play around with it anyway you like. If you're looking for snacks, an easy crowd pleaser is air popped popcorn tossed in truffle salt, parmesan and chives. Label the foods: print out the recipe titles and glue them to gold backgrounds. This is where your gourmet skills come out to play.
The Gosling (also called a "Julien") is a drink that Ryan Gosling's character made in Crazy, Stupid, Love. We have the recipe for you to follow step by step:
Step 1: A sugar cube in the bottom of a glass
Step 2: Few drops of Angostura bitters (on the sugar cube)
Step 3: A little soda water until the sugar is dissolved
Step 4: 2 ounces of bourbon
Step 5: Handful of ice cubes
And the award goes to…:
What's more fun than grabbing an Oscar of your own? Create a statue or an Oscar-themed gift basket (could be filled with chocolates, flowers, candy) and hand it out to the guest who gets most of the winning predictions correct. You can create a ballot where guests can vote before the show and tally it up after. Want to make it more fun? Make them come up on "stage" and accept their award with their very own speech!
And there you have it. We would love to see what you came up with so shoot us a Tweet or Facebook post and share your creativity! Who knows? Maybe we'll be seeing you on the big screen! Autograph, please!