The Girls With Glasses: Style Icons for Young Moms Everywhere!
Meet The Girls With Glasses, Brooke White and Summer Bellessa, lifestyle bloggers and mommy-fashionistas! Meeting on MySpace, their friendship grew as they bonded over their passion for fashion. Their style has grown together and is a mix between tradition and innovation.
"We want to inspire women everywhere to live a fashionable, creative lifestyle while juggling an everyday one as well." - The Girls With Glasses
You may recognize Brooke from her debut on the hit TV series American Idol. This energetic blonde has an unforgettable raspy voice that landed her in the top 5 on Idol. The show opened the doors for Brooke to independently pursue her music career, and release five albums since her appearance. In May 2012, Brooke and her husband Dave welcomed their first child together, daughter London, into their lives. Now Brooke has the opportunity to bring her interests into this new phase of her life: motherhood.
The sassy red-head of the duet is summer. She began her modeling career at age 17, traveling internationally to work in the top fashion capitals of the world, including New York, Paris, London, Tokyo, and more. Her time in the industry allowed her to diversify her talents. As an entrepreneur she pulled together a talented team to create ELIZA magazine. Summer continues to produce creative content for various projects, including, but not limited to, The Girls With Glasses. She is also enjoying motherhood, raising two rowdy boys with her husband, Kerry Bellessa.
Together The Girls With Glasses have been generating lifestyle, home, family, fashion, and entertainment creative content for over five years. They have videos on ULIVE, The Design Network, and on their YouTube channel as part of the KIN Community multi-channel network. Brooke and Summer will be reveal their fashion forward mommy secrets live at the 2015 Salt Lake Tribune Home + Garden Festival. Make sure you see them at the show, they'll be gracing the Design Stage presented by XFINITY on Friday, March 6th at 3pm and 6pm.
The Salt Lake Tribune Home + Garden Festival takes over the South Towne Expo Center March 6-8 2015. Don't have tickets yet? Get 2-for-1 on Facebook and bring a friend or family member to the show. We can't wait to see you there!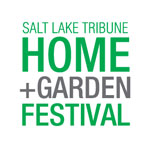 MARCH 6 - 8, 2015.

SOUTH TOWNE EXPO CENTER
Mar 6, 2015, 17:07 PM