Do-It-Yourself With Bryan Baeumler
Feb 14, 2020, 16:00 PM
Canada's #1 do-it-yourself expert, Bryan Baeumler is coming to Utah for the Salt Lake Tribune Home & Garden Show. You may know him from his hit TV shows Island of Bryan, House of Bryan, Disaster DIY, and Leave it to Bryan. However, this guy is the real deal; learning tricks of the trade from his father since he was a child.
With his vast knowledge and impressive on-the-job experience, Bryan has developed an extensive know-how in balancing the structural aesthetic with intelligent utility. He enjoys teaching viewers the necessary skills to tackle their own projects.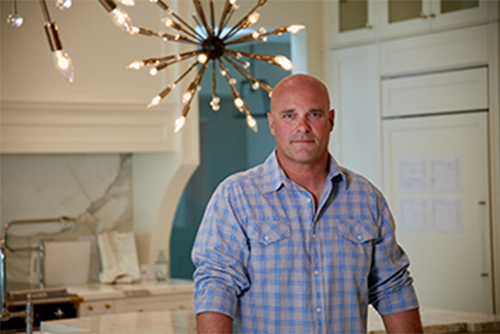 Why do you think the idea of a do-it-yourself project is so appealing to people?
Bryan: I think there are a few reasons and they vary from person to person. There are people who generally have an interest in it and enjoy doing work around the house, people who want to save money, and people who want to tackle a project and have that sense of accomplishment from taking care of their own home.
Do you think everyone has the ability to try a do-it-yourself project?
Bryan: I think everyone can, but I don't think everyone wants to. If you really wanted to learn to do it you could invest the time, research and practice. The best way to learn is to get a bit of theory, read the instructions, get your hands dirty and make some mistakes. Go through and learn how not to do it.
What is your advice for a first time do-it-yourselfer?
Bryan: Start small and affordable. It's kind of like going to a casino; assume you're going to have to pay someone to fix the problem for you. If you're willing to write off the materials you purchased, that is a good place to start.
What is a good project to start with?
Bryan: Painting is a classic first project to get your feet wet. If you have patience, and take your time, pretty much anyone can handle painting a wall. You'll also learn a good professional painter is worth their weight in gold.
Where do folks normally get in over their heads?
Bryan: One of the biggest mistakes people make is that they are optimistic about how much things will cost, how long they will take, and how much skill they will require. We under budget, we don't allow ourselves enough time, we assume we are better at things we than we are. If it's unfinished or finished poorly your value will suffer.
For more from Bryan, visit him online here and on Facebook.
Get DIY tips from Bryan, live on the Garden Design Stage:
Friday, March 6th at 5:00 P.M.
Saturday, March 7th at noon & 2:00 P.M.